Audio Visual Cases - Tour 8 Series
Grundorf's Tour 8™ Series Audio Visual cases are the perfect solution for storing all your non-rackmountable equipment, amps, players, guitar speaker stacks, etc. in a custom fit case. Each case is fully lined with 1" high-density foam to provide a "glove" fit and fully protect your valuable gear. And the best news is with a Grundorf case, you save money! We don't charge extra for the custom fit!
All Audio/Visual style cases are available as custom orders. You supply the dimensions (height, width, and depth) of the equipment, and we build around the gear.
Each Tour 8™ Series case is constructed with 3/8" multi layer plywood with a durable ABS laminate finish. The edges are finished with double edged aluminum extrusion. The lid-to-body seal is made with an interlocking aluminum tongue and groove valance system to provide a tight seal. The handles and catches all use a steel washer backed rivet system for greater durability.
The front and rear removable lids allow access to cables and controls so equipment can be left in the case during use. Dividers may be installed to create multiple compartments with different interior finishes (1" foam, black paint, rack rail, etc). Optional recessed key locks are available to secure your gear. Optional 3" or 4" caster dolly plates (with or without brakes) are also available. Choose from black, gray, blue or red finish colors.
Check out all the available options below!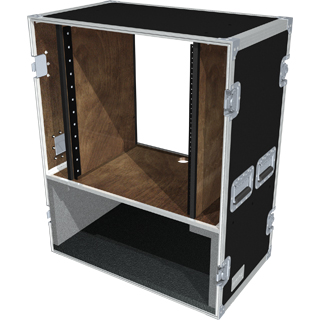 Available Finishes

Black Laminate - Textured ABS Plastic Surface on Plywood. (Meets A.T.A. Specifications)

Gray Laminate - Textured ABS Plastic Surface on Plywood. (Meets A.T.A. Specifications)

Blue Laminate - Textured ABS Plastic Surface on Plywood. ( Meets A.T.A. Specifications )

Red Laminate - Textured ABS Plastic Surface on Plywood. (Meets A.T.A. Specifications)

Available Options [±]
8-LOC

Key-Locking Recessed Catch Replaces Medium Recessed Latch

AV8-LC

Large Caster (4") Dolly Plate

AV8-LC2B

Large Caster (4") Two Brakes Dolly Plate

AV8-MC

Medium Caster (3") Dolly Plate

AV8-MC2B

Medium Caster (3") Two Brakes Dolly Plate

DISH

Caster Dish #37-019 Mounted on Case Top

DWR

Wooden Drawer On Glides
Inside Dims: H-10" x W-Varies x D-20"

HACH

Metal Cable Hatch with Open Access of H-4.7" x W-3.6"

HOLE

2" Cable Hole with #39-002 Port

IHEC

Internal Mount Pull-Out Handle #31-022 and Two Edge Mount Caster #37-008 Requires One Inside Dimension of Minimum 19.25"

MDWR

Wooden Drawer On Glides with Foam Mic Insert
Inside Dimensions: H-10" x W-Varies x D-20"

RH

Extra Spring-Loaded Recessed Handle

SHLF

Permanently Installed Shelf

TLS

One Wishbone Table Leg #43-001 Installed Inside Rear Cover of 18 Space or Larger Rack

TRAP

Trap Door for Cable Feed
Hinge on Top, Latch on Bottom
With Open Access H-6" x W-12"

TRAY

Wood Pull-out Tray on Glides

Home |

Literature Request |

Contact Us |

Legal

Grund Audio Design Home Page
Copyright © 1996-2016 Grundorf Corporation. All Rights Reserved