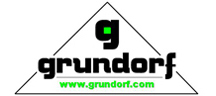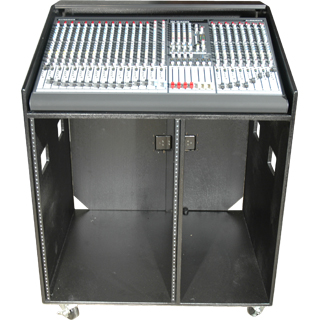 Combo Racks - Studio
The newest Combo Case design - Grundorf has taken the most versatile case in our line-up and added another solution for you - the Studio Series Combo Rack Shell. These racks are built like our standard combo cases, but designed for the installation where aesthetics are an important consideration.
These racks are constructed with 13-ply/inch Baltic birch and assembled with industrial staples to ensure structural integrity. The birch combo rack shell is available finished with black or white spatter paint finish or it can be left in a natural state so it may be painted or stained to match an existing facility's color pallet when aesthetics are important.
Two standard mixer deck sizes are available - W-33" x D-30" or W-42" x D-30". The bottom rack is 16 Spaces. The depth includes a 6.5" 'doghouse' to cover the connections at the rear of the mixer. The back of each bottom section is equipped with a hinged access door for easy access to wiring, cable passes in the mixer tray, and between the lower sections. 3" casters are installed on the bottom, two of which are with brakes to keep the rack stationary.
ALL COMBO CASES ARE
CUSTOMIZABLE TO FIT ANY GEAR!