Warning
: array_multisort(): Argument #1 is expected to be an array or a sort flag in
/home/grundorf/public_html/CasesandRacks-Application.php
on line
43
Warning
: mysql_free_result() expects parameter 1 to be resource, null given in
/home/grundorf/public_html/CasesandRacks-Application.php
on line
45
Warning
: key() expects parameter 1 to be array, null given in
/home/grundorf/public_html/CasesandRacks-Application.php
on line
82
Put your front of house processing or your playback gear in Equipment Racks from Grundorf. The "ER" Series is slightly smaller than our Amp Rack "AR" Series, but still sturdy enough to hold heavy weight gear.
Grundorf Equipment Racks are available with a 16.5" body depth and a 16" rackable depth. These racks each have two full cap style lids allowing room for protrusions in front of the rack rails. These racks are available with surface mounted latches and handles or heavy-duty recessed catches and spring-loaded handles.
Many options are available including rear rack rail, 3" or 4" caster dolly plates and a table option which installs a table leg in the cover to create an instant work station.
Standard Features
Carpet inlaid behind recessed catches to provide a continuous "Rug-to-Rug" seal
10° beveled lid cut to ensure proper lid alignment and dust tight seal
Deep lids to accommodate equipment handles and knobs
Multi-layer plywood construction
Recessed catches offer a dowel alignment so lids always align properly
Large radius edges for impact protection
1/8" thick heavy duty 10/32 tapped rack rail
Protect your investment - buy with confidence - buy Grundorf cases and racks.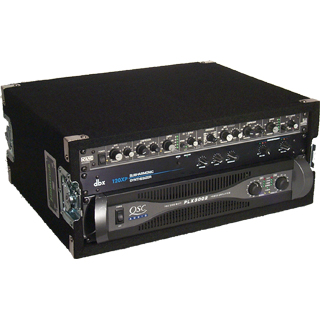 Warning: Invalid argument supplied for foreach() in /home/grundorf/public_html/CasesandRacks-Application.php on line 579


Home |

Literature Request |

Contact Us |

Legal

Grund Audio Design Home Page
Copyright © 1996-2017 Grundorf Corporation. All Rights Reserved