Keyboard Cases
Grundorf Keyboard style road cases are all custom built to fit YOUR gear! No more lugging around a manufacturer's "stock" sized case that dwarf's your gear and takes up way too much room in your vehicle!
With a Grundorf road case - you don't have to go home and "re-design" the interior of your case. Each road case is fully lined with 1" thick high-density foam to provide a "glove" fit and fully protect your valuable gear. And the best news is with a Grundorf case, you save money! We don't charge extra for the custom fit!
Grundorf does not use a strap system to secure the gear inside the case which, for example, may cause damage to the keys on a keyboard. Our custom fit foam interior fully supports the gear and keeps it from shifting during transport. The Grundorf Keyboard style cases are built tough! When you order a custom fit case from Grundorf, you don't have to worry about the case bending under the weight of the gear inside. Your Grundorf case will last for years and years.
Choose from our Carpet, Tour 4™, or Tour 8™ Series styles of Keyboard road cases. Some styles are available with optional recessed key locks to secure your gear. Optional compartments may be added to store cords, pedals and other accessories. You can also add optional corner casters on one end to make transporting your gear even easier.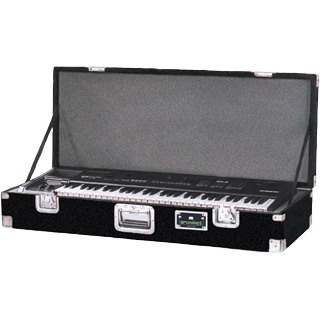 Home |

Literature Request |

Contact Us |

Legal

Grund Audio Design Home Page
Copyright © 1996-2018 Grundorf Corporation. All Rights Reserved