Microphone Cases - Pro Series
You won't hear a "thud" in the bottom of a Grundorf mic case. The bottom of the microphone sections are padded with foam. The 2" thick microphone inserts are equipped with 1.25" holes for your mics. The mic insert is completely removable to expose extra storage in the bottom of the case.
Each Pro Series road case is constructed with plywood and a durable vinyl finish. The edges are finished with double edged aluminum extrusion. The lid-to-body seal is made with an interlocking aluminum tongue and groove valance system to provide a tight seal. Heavy-duty recessed handles and pad-lockable recessed catches are standard equipment for greater durability.
The Grundorf Pro Series Mic Cases are available to hold 16 or 25 microphones in drop slots. Some models feature the added benefit of a foam-lined accessory compartment to store cables, clips, wireless transmitters, batteries, and other accessories. Don't forget to take a look at the mic stand case!
Pro Series road cases are all available in a classic Black finish.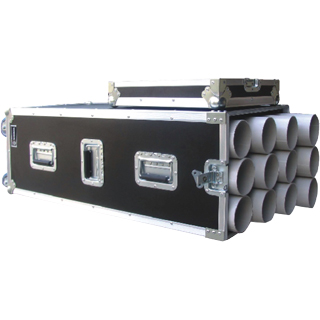 Home |

Literature Request |

Contact Us |

Legal

Grund Audio Design Home Page
Copyright © 1996-2018 Grundorf Corporation. All Rights Reserved