Shock Racks - Pro Series
Grundorf steps up the level of protection with the Shock Rack Series. These durable "made-for-the-road" road cases are engineered to keep your pro audio equipment safe in a foam surround shock system.
Each Pro Series Shock Rack is constructed with 3/8" vinyl laminated plywood. The edges are finished with double edged aluminum extrusion. The lid-to-body seal is made with an interlocking aluminum tongue and groove valance system to provide a tight seal. Heavy duty recessed handles and padlocking recessed catches add the durability required for the road.
The Pro Series Shock Racks are available in 14.5" and 18.5" rackable depth models. Each road case has a 1" high-density foam surround. Each rack has front and rear removable lids for complete access to your equipment from both sides. Front and rear rack rail is standard on each model. Large 4" caster plates with two brakes are standard on larger racks and available optionally on the smaller racks. The finish color is black.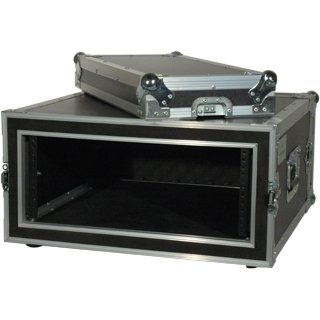 Home |

Literature Request |

Contact Us |

Legal

Grund Audio Design Home Page
Copyright © 1996-2018 Grundorf Corporation. All Rights Reserved