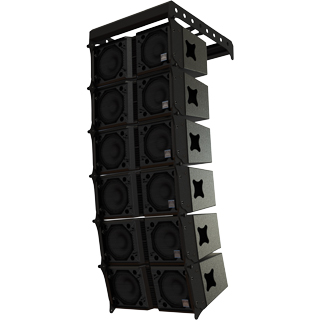 GALA Line Array Series
Where Performance and Value Converge!
The Grund Audio Design GALA™ System represents a new benchmark in line array loudspeaker technology, performance and value. Never before has a line array system been available that is this compact and technically correct, yet affordable. Typical line array systems offered to date have been large, very expensive and priced well beyond the budget of many small-to-medium sized installations and tour sound customers.
The GALA™ system is fully ground stackable, while still maintaining the performance parameters of the line array concept. For absolute safety when the system is flown, fully tested and certified ATM™ flying hardware is utilized. To save set up and tear down labor costs, an entire 24 box stereo hanging system can be flown by only one person. Additionally, all the GALA™ cabinets are designed for efficient truck pack. The GALA™ system is the perfect sound solution for any concert sound or A/V rental company that needs a very high quality rig. Churches, schools, auditoriums and even night clubs can now all benefit from the incredible advantages a line array system offers.
Don't miss your opportunity to audition the Grund Audio Design GALA™ loudspeaker system today. Just call 712-322-3900 to find out where a GALA™ system is playing near you, or to arrange for an on-site demonstration.
When it comes to great sound, "You gotta get a Grund!"
GALA Line Array Series
Grund Audio uses two, one inch Neo drivers coupled to a dual, asymmetrical fiberglass horn. This combination provides a wide horizontal coverage and a very narrow vertical that maximizes efficiency, with total coherency and intense output. The use of the asymmetrical horn provides greater intelligibility and better fidelity throughout the band width. Both the GA-1021 and the GA-2021 offer an excellent choice for club, concert or church venues of all sizes. The GA-1021 and GA-2021 models are ground stackable or flyable.
Expand Details

Model
Number
Drivers
Frequency
Response
Sensitivity
Watt /
ohm
Dispersion
H / V
Dimensions
H x W x D
GA-1021Z
LF: 10" Cone
HF: 1" Compression Driver
52 Hz - 18 kHz
99 dB SPL
300 / 16 Ω
100°
12.44 x 22.75 x 14.75
GA-1621
LF: 51-072
HF: 57-022
67 Hz - 18 kHz
100 dB SPL
500 / 8 Ω
100°
10.00 x 24.50 x 14.50
GA-2021N
LF: 10" Neo Cone
HF: 1" Neo Compression Driver
50 Hz - 18 kHz
101 dB SPL
600 / 8 Ω
100°
12.25 x 37.00 x 13.00
GA-4041NGS
LF: 10" Neo Cone
HF: 1" Neo Compression Driver
40 Hz - 18 kHz
104 dB SPL
1200 / 4 Ω
100°
23.50 x 33.13 x 19.75
GA-L15
LF: 15" Cone
40 Hz - 250 Hz
99 dB SPL
1000 / 8 Ω
14.00 x 22.75 x 26.75

Home |

Literature Request |

Contact Us |

Legal

Grundorf Cases & Racks Home Page
Copyright © 1996-2018 Grundorf Corporation. All Rights Reserved