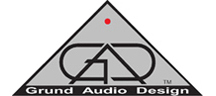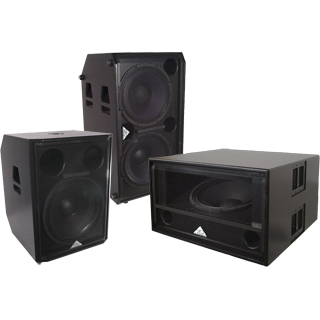 GT Series - Subwoofers
Grund Audio has some of the most compact and highest SPL subwoofers in the market today - the GT-LPB-36CX is only 17" high and the GT-3600CX handles 2000 watts of power.
The GT Subwoofer Series offers a variety of sizes and power handling capabilities to solve even the most complex installation problems. These enclosures are built to endure years of road use with Baltic birch construction and superior dado and rabbet joinery, and have been tested in the most demanding applications.
Model
Number
Drivers
Frequency
Response
Sensitivity
Watt /
ohm
Dispersion
H / V
Dimensions
H x W x D
GT-1500
LF: 15" Cone
40 Hz - 1000 Hz
99 dB SPL
400 / 8 Ω
Omni-directional
28.75 x 18.50 x 18.50
GT-1800CX
LF: 18" Cone
35 Hz - 500 Hz
100 dB SPL
1000 / 8 Ω
Omni-Directional
29.50 x 22.25 x 23.00
GT-3000C
LF: 2 x 15" Cone
35 Hz - 250 Hz
100 dB SPL
900 / 4 Ω
Omni-Directional
44.00 x 19.00 x 22.25
GT-315C
LF: 2 x 15" Cone
37 Hz - 1000 Hz
100 dB SPL
900 / 4 Ω
Omni-Directional
20.75 x 37.75 x 23.00
GT-3600CX
LF: 2 x 18" Cone
30 Hz - 250 Hz
101 dB SPL
2000 / 4 Ω
Omni-Directional
24.75 x 44.25 x 26.00
GT-LPB-18CX
LF: 18" Cone
35 Hz - 200 Hz
99 dB SPL
1000 / 8 Ω
Omni-Directional
17.00 x 29.50 x 29.50
GT-LPB-24C
LF: 2 x 12" Cone
40 Hz - 250 Hz
99 dB SPL
800 / 4 Ω
Omni-Directional
12.38 x 28.75 x 18.50
GT-LPB-36CX
LF: 2 x 18" Cone
35 Hz - 200 Hz
101 dB SPL
2000 / 4 Ω
Omni-Directional
17.00 x 43.50 x 29.50