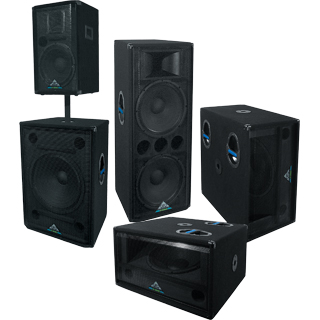 ST Pro Series
The GAD™ ST Pro Series products are designed with the aid of the most advanced technologies in the audio field. Sophisticated design and measurement equipment, including computer assisted design software, is used for each design to achieve optimized balance and interface between components to give better quality, performance, and longer life.
The ST Pro series product line consists of models ranging from very high power medium/long-throw, to low power near field, and subwoofer models from very high to medium power. These products are used by musicians, DJs, rental companies, and many fixed installations including houses of worship, theaters, music halls, meeting rooms, amusement parks, hotels, stadiums, nightclubs, and auditoriums.
The following are some of the quality features: multi-layer void-free plywood construction; T-baffle™ bracing; epoxy powder coated, steel perforated grilles; durable, soil-resistant black carpet covering; black corners; and complex third-order, optimized crossover networks for matched transition between drivers, with full protection circuitry. All models carry a five year limited warranty.
Expand Details

Model
Number
Drivers
Frequency
Response
Sensitivity
Watt /
ohm
Dispersion
H / V
Dimensions
H x W x D
STP-102M
LF: 10" Cone
HF: 1" Compression Driver
70 Hz - 18 kHz
97 dB SPL
200 / 8 Ω
90° / 40°
12.63 x 19.38 x 12.50
STP-122
LF: 12" Cone
HF: 1" Compression Driver
55 Hz - 16 kHz
98 dB SPL
300 / 8 Ω
90° / 40°
24.50 x 15.25 x 15.25
STP-122M
LF: 12" Cone
HF: 1" Compression Driver
60 Hz - 16 kHz
98 dB SPL
300 / 8 Ω
70° / 40°
14.25 x 22.25 x 13.63
STP-151S
LF: 15" Cone
40 Hz - 2000 Hz
97 dB SPL
300 / 8 Ω
30.00 x 18.75 x 18.50
STP-152M
LF: 15" Cone
HF: 2" VC Compression Driver
50 Hz - 16 kHz
98 dB SPL
300 / 8 Ω
90° / 40°
17.00 x 26.50 x 16.50
STP-181S
LF: 18" Cone
35 Hz - 2000 Hz
99 dB SPL
600 / 8 Ω
32.50 x 23.75 x 20.25
STP-2402
LF: 12" Cone
HF: 2" VC Compression Driver
40 Hz - 16 kHz
99 dB SPL
600 / 4 Ω
90° / 40°
37.75 x 18.75 x 18.50
STP-3002
LF: 15" Cone
HF: 2" VC Compression Driver
38 Hz - 16 kHz
99 dB SPL
600 / 4 Ω
90° / 40°
45.25 x 18.75 x 18.50
STP-300S
LF: 15" Cone
35 Hz - 2000 Hz
99 dB SPL
600 / 4 Ω
45.25 x 23.50 x 20.25
STP-36
LF: 15" Cone
MF: 6" Cone
HF: 1" Compression Driver
40 Hz - 20 kHz
98 dB SPL
300 / 8 Ω
90° / 40°
30.00 x 18.75 x 18.50
STP-360S
LF: 18" Cone
30 Hz - 2000 Hz
100 dB SPL
1200 / 4 Ω
44.50 x 23.50 x 20.25
STP-52
LF: 15" Cone
HF: 2" VC Compression Driver
40 Hz - 16 kHz
99 dB SPL
300 / 8 Ω
90° / 40°
30.00 x 18.75 x 18.50
STP-SLP-18
LF: 18" Cone
35 Hz - 2000 Hz
100 dB SPL
600 / 8 Ω
17.00 x 28.75 x 28.75
STP-8
LF: 8" Cone
HF: 1" Compression Driver
61 Hz - 20000 Hz
94 dB SPL
150 / 8 Ω
90° / 40°
17.06 x 10.06 x 8.31
STP-5S
LF:
40 Hz - 200 Hz
98 dB SPL
400 / 8 Ω
15.38 x 22.75 x 31.13

Home |

Literature Request |

Contact Us |

Legal

Grundorf Cases & Racks Home Page
Copyright © 1996-2018 Grundorf Corporation. All Rights Reserved