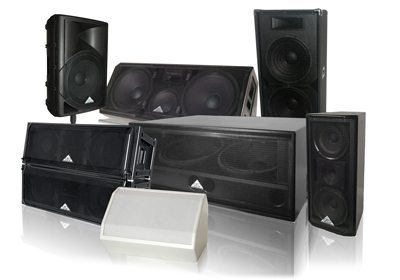 Grund Audio Design
Blending Audio Creativity with Rock Solid Cabinets
Grund Audio Design loudspeakers are known for superior clarity and innovative ideas by performers, touring audio professionals and contractors. GAD uses premium components including asymmetrical horns, neodymium magnets, titanium drivers and third-order crossover networks, all housed in lightweight, durable, Baltic Birch wood cabinets.
Combining engineering and manufacturing excellence with affordability, GAD is manufactured with excellence in the U.S.A. Below you'll find a product for almost any high-quality permanently installed or mobile audio system:
GALA and GT - large venues, theaters, houses of worship, production companies
Altar Clarity - intimate-size houses of worship
UB - dedicated under balcony solutions - houses of worship, nightclubs, gymnasiums, theaters
VIP - commercial installations - sports bars/restaurants, digital jukeboxes, fitness centers, dance studios
GP - versatile powered speakers - for portable and permanent install applications (hanging points are standard) - Corporate A/V, House of Worship, club, touring, musicians, DJ's, backline monitoring
ST Pro - serious clubbing musicians
XT - musicians and DJs, economical
Just scroll down and select the GAD series that is right for you!

Warning: file_get_contents(./content/GQ/GQ.inc): failed to open stream: No such file or directory in /home/grundorf/public_html/Audio.php on line 42


Warning: file_get_contents(./content/LC/LC.inc): failed to open stream: No such file or directory in /home/grundorf/public_html/Audio.php on line 42


Home |

Literature Request |

Contact Us |

Legal

Grundorf Cases & Racks Home Page
Copyright © 1996-2018 Grundorf Corporation. All Rights Reserved