«Cases and Racks «Amp Speaker Cases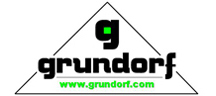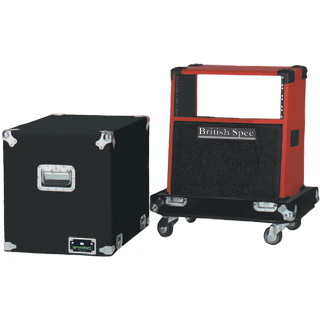 Amp Speaker Cases - Tour 2
Grundorf Tour 2™ Series Amp/Speaker cases are all custom built to fit YOUR amp! No more lugging around a manufacturer's "stock" sized case that dwarf's your amp and takes up way too much room in your vehicle!
With a Grundorf case - you don't have to go home and "re-design" the interior of your case. Each case is fully lined with 1" high-density foam to provide a "glove" fit and fully protect your valuable gear. And the best news is, with a Grundorf case, you save money! We don't charge extra for the custom fit!
The Grundorf Tour 2™ Series Amp/Speaker cases are built tough! Each case is constructed with .5" multi layer plywood with a durable ABS laminate finish. The edges are finished with double edged aluminum extrusion. The lid-to-body seal is made with an interlocking aluminum tongue and groove valance system to provide a tight seal. We use 12 rivet point recessed handles and 10 rivet point recessed catches to provide the strength needed for years of wear-and-tear. The handles and catches all use a steel washer backed rivet system for greater durability.
You can leave your amp in the bottom tray during use, or set your amp on top of the closed case to get your amp at a height closer to ear level to help control the sound level on stage (and make your sound engineer very happy).
Grundorf Tour 2 Series Amp/Speaker Style Cases feature a lift-off lid design. Each case is custom built to fit each product! Each case comes standard with 1" high-density foam interior, heavy-duty ball corners, four recessed catches (two front and two back), and one recessed handle on each end. Sturdy aluminum extrusion and .5" plywood with ABS laminate are standard on all Tour 2 Series cases.

Optional recessed key locks are available to secure your gear. You may add an optional 3" or 4" caster dolly plate (with or without brakes) to make transporting your gear even easier. You also get to choose a finish color: black, gray, blue, or red.
Grundorf custom builds cases for all product brands including:
Akai
Alesis
Allen & Heath
American DJ
Alto
Ampeg
Audio Pro
ART
Ashdown
Avab
Avlex
Baldwin
Behringer
Biamp
Bogner
Carvin
Casio
Clavia
Colortran
Community
Crate
Crest
Denon
Digidesign
Dynacord
Eden
Edirol
Eiki
Elation
Electrovoice
Elmo
Emu
Ensoniq
ETC
Fender
Fostex
Gallien Krueger
Gemini
General Music
Gibson
Grund Audio Design
Hammond
Hartke
Hughes & Kettner
Inter M
JBL
Johnson
Kawai
Ketron
Korg
Kurzweil
Laney
Leprecon
Lightronics
Line 6
Mackie
Mantrix
Marshall
Martin
Matchless
M-Audio
Mesa Boogie
Midas
Moog
NSI
Numark

Oberheim
Orange
Panasonic
Peavey
Phonic
Pioneer
Ramsa
Randall
Rane
Rivera
Rocktron
Roland
ROSS
Samick
Samson
Sony
Soundcraft
Soundtech
Soundtrack
Stanton
Studiomaster
SWR
Tascam
Technics
Telex
TOA
Topaz
Traynor
Urei
Vestax
Vocopro
Vox
Yamaha
Yorkville