Mixer Cases
Grundorf Mixer style cases are all custom built to fit YOUR gear! No more lugging around a manufacturer's "stock" sized case that dwarf's your gear and takes up way too much room in your vehicle!
With a Grundorf road case - you don't have to go home and "re-design" the interior of your case. Each case is fully lined with 1" thick high-density foam to provide a "glove" fit and fully protect your valuable gear. And the best news is with a Grundorf road case, you save money! We don't charge extra for the custom fit!
Grundorf Mixer style cases are built tough to last for years and years! Choose from Carpet, Tour 2™ (1/2" flight case) , Tour 4™ (1/4" flight case) or Tour 8™ ( 3/8" flight case) Series styles of Mixer cases. Many options are available on all Grundorf Mixer style cases including:
MIXER TABLE - The Mixer Table option adds a "lip" under the bottom tray of the mixer case which stores a pair of wishbone table legs. This option requires minimum inside case dimensions of: W - 40" and D - 22".
COMPARTMENT - Add an additional storage compartment to the side or rear of any mixer case to store power supply, cords, and other accessories. The compartments may have painted, carpeted or foam lined interior finishes.
KEY LOCKS - Add optional recessed key-locking catches to your case to secure your valuable equipment!
DOGHOUSE - The Grundorf Doghouse allows connectors and snake cables to be covered while the mixer is in use. The Doghouse is constructed of birch plywood and has a black spatter paint finish. This doghouse adds 8" cable clearance and 9" to the overall depth of the case. The height of the doghouse is the same as the mixer.
CASTERS - Add a 3" or 4" caster dolly plate to your mixer case. The casters are mounted to a plywood dolly plate which is then mounted to the top lid of the case. There is a minimum width required for dolly plates to prevent the wheels from "knocking". This minimum may require the caster dolly plate to be wider than the actual case.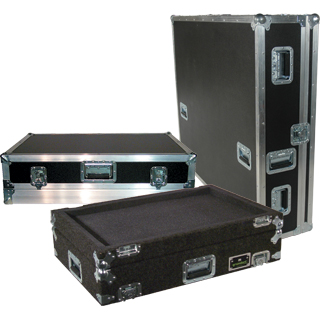 Home |

Literature Request |

Contact Us |

Legal

Grund Audio Design Home Page
Copyright © 1996-2017 Grundorf Corporation. All Rights Reserved