Microphone Cases
Protect your investment with a Grundorf Microphone Case!
You won't hear a "thud" in the bottom of a MADE IN USA Grundorf mic case. The bottom of the microphone section is padded with 1" thick high-density foam, with a full 7" high foam microphone insert above. The foam insert provides individual padded microphone drops with a full 8" available for your microphones. The microphone foam is equipped with pluckable 1" or 2" diameter holes so you can custom fit the openings to fit each individual microphone. That's what you should expect from a professionally built, quality case!
Choose from our Carpet Series, ABS Series, Pro Series, Tour 4™ or Tour 8™ Series Microphone Cases. Some models feature the added benefit of a foam-lined accessory compartment to store cables, clips, wireless transmitters, batteries, and other accessories. Some styles are available with optional recessed locks for added security.
Check out the Grundorf Pro Series mic stand case. This is a tough-built case with casters to store and transport your microphone stands and keep them looking great!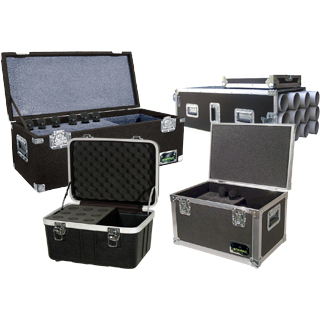 Home |

Literature Request |

Contact Us |

Legal

Grund Audio Design Home Page
Copyright © 1996-2018 Grundorf Corporation. All Rights Reserved