Amp/Speaker Cases
Grundorf Amp/Speaker cases are all custom built to fit YOUR amp! No more lugging around a manufacturer's "stock" sized case that dwarf's your amp and takes up way too much room in your vehicle!
With a Grundorf case - you don't have to go home and "re-design" the interior of your case. Each case is fully lined with 1" high-density foam to provide a "glove" fit and fully protect your valuable gear. And the best news is with a Grundorf case, you save money! We don't charge extra for the custom fit!
You can leave your amp in the bottom tray during use, or set your amp on top of the closed case to get your amp at a height closer to ear level to help control the sound level on stage (and make your sound engineer very happy).
Choose from Carpet, Tour 2™ (1/2" ATA), Tour 4™ (1/4" ATA) or Tour 8™ (3/8" ATA) Series styles of Amp/Speaker cases. Optional recessed key locks are available to secure your gear. You may add an optional 3" or 4" caster dolly plate (with or without brakes) to make transporting your gear even easier.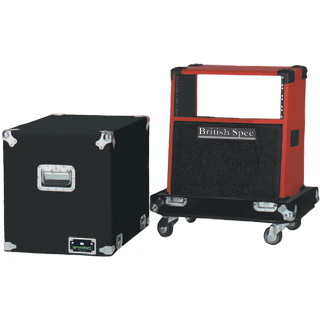 Home |

Literature Request |

Contact Us |

Legal

Grund Audio Design Home Page
Copyright © 1996-2017 Grundorf Corporation. All Rights Reserved