Audio Visual Cases - Carpet Series
Grundorf's Audio Visual cases are the perfect solution for storing all your non-rackmountable equipment, amps, players, guitar speaker stacks, etc. in a custom fit case. Each case is fully lined with 1" high-density foam to provide a "glove" fit and fully protect your valuable gear. And the best news is with a Grundorf case, you save money! We don't charge extra for the custom fit!
Each Carpet Series case has multi-layer plywood construction and is glued and stapled for maximum strength. The lid and body of the cases include a special bevel-cut design to "lock" the cases together providing a secure, dust-proof seal. The case is finished with a durable, easy care, carpet finish that will withstand years of wear-and-tear, and heavy duty, all steel hardware assuring this case will hold up to years of road life!
All Audio/Visual style cases are available as custom orders. You supply the dimensions (height, width, and depth) of the equipment, and we build around the size of the gear. Because each case is custom built, these can be modified for multiple compartments with different interior finishes (1" foam, black paint, rack rail, etc). The front and rear removable lids allow access to cables and controls so equipment can be left in the case during use.
Optional recessed key locks are available to secure your gear. 3" or 4" caster dolly plates (with or without brakes) are also available. Carpet Series Audio Visual Cases are available in Black Carpet Finish.
Check out all the available options below!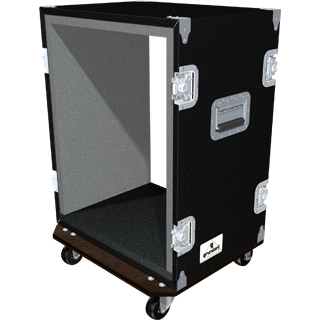 Available Finishes

Black Carpet

Available Options [±]
AV-LC

Large Caster (4") Dolly Plate

AV-LC2B

Large Caster (4") Two Brakes Dolly Plate

AV-MC

Medium Caster (3") Dolly Plate

AV-MC2B

Medium Caster (3") Two Brakes Dolly Plate

DISH

Caster Dish #37-019 Mounted on Case Top

DWR

Wooden Drawer On Glides
Inside Dims: H-10" x W-Varies x D-20"

EHPC

External Pull-Out Handle #31-021 and Two Plastic Edge Mount Caster #37-021 Requires One Outside Dimension of Minimum 16"

HACH

Metal Cable Hatch with Open Access of H-4.7" x W-3.6"

HOLE

2" Cable Hole with #39-002 Port

IHEC

Internal Mount Pull-Out Handle #31-022 and Two Edge Mount Caster #37-008 Requires One Inside Dimension of Minimum 19.25"

LOC

Key-Locking Recessed Catch Replaces Medium Recessed Latch

MDWR

Wooden Drawer On Glides with Foam Mic Insert
Inside Dimensions: H-10" x W-Varies x D-20"

RH

Extra Spring-Loaded Recessed Handle

SHLF

Permanently Installed Shelf

TLS

One Wishbone Table Leg #43-001 Installed Inside Rear Cover of 18 Space or Larger Rack

TRAP

Trap Door for Cable Feed
Hinge on Top, Latch on Bottom
With Open Access H-6" x W-12"

TRAY

Wood Pull-out Tray on Glides

Home |

Literature Request |

Contact Us |

Legal

Grund Audio Design Home Page
Copyright © 1996-2016 Grundorf Corporation. All Rights Reserved