Wireless Racks - ABS Series
Introducing the NEW Grundorf ABS Series Professional Wireless Racks!
The ABS Series Wireless Racks are designed to house wireless systems, small processing gear, and more! These versatile, lightweight, rugged road cases provide robust protection for your gear and are ideal for musicians and DJ's and also make an outstanding choice for house of worship, corporate AV centers, and educational applications.
The ABS Series Wireless Racks are available in 2-, 3-, 4-, and 6-space sizes. These rack cases are manufactured from ultra-high molecular weight ABS material and utilize a 3 mm thick high density ABS shell with a heavy duty aluminum extrusion to ensure outstanding protection for many years of use. All models feature a contemporary, professional black textured finish that is easy to clean and maintain. These racks have gasket-fitted front and rear lids—each with a 2.25-inch inside depth— to protect your gear from moisture and dirt.
The Grundorf ABS Series Professional Wireless Racks are designed with molded-in structural bracing for added strength. In addition to ensuring the case retains its structural rigidity, this design characteristic also enables them to be stacked to conserve valuable space. For this reason, the ABS Series Wireless Racks feature a molded-in, stackable 'lock-in-place' design to ensure the equipment stays securely in place.
These rack cases feature a pre-tensioned rack rail that eliminates the occurrence of loose racking screws. Also featured is the field-replaceable rack rail—should the need to replace it ever become necessary. With an 8.25-inch rackable depth space between the front and rear rack rail, these racks accommodate most wireless gear.
Protect your investment - buy with confidence - buy Grundorf road cases and racks!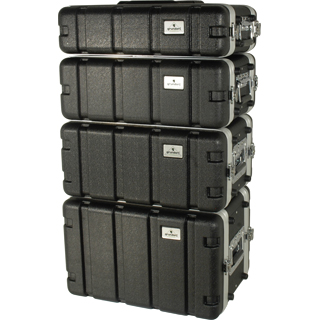 Home |

Literature Request |

Contact Us |

Legal

Grund Audio Design Home Page
Copyright © 1996-2018 Grundorf Corporation. All Rights Reserved