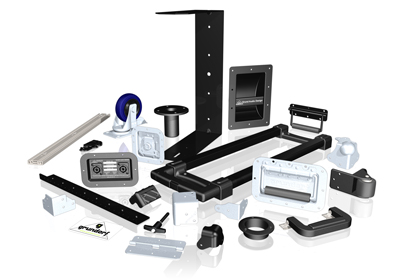 Parts and Accessories
High-Performance Parts & Accessories at Great Price$
Since the early 1980's, Grundorf engineering has been building and restoring cases, racks, cabinets and other tour gear. During that time, the Grundorf Corporation has tried and tested almost every brand of replacement hardware and components available.
To keep your gear in tour-ready condition, Grundorf now stocks the best of the best case and speaker hardware. It is available in small quantities and at fair prices. Just scroll down to find the part that most closely matches your requirement and click to view more information.
Grundorf Accessories and Parts - Why waste time and money searching for the best, when we carry it for you IN STOCK!

Home |

Literature Request |

Contact Us |

Legal

Grund Audio Design Home Page
Copyright © 1996-2018 Grundorf Corporation. All Rights Reserved