Amp Racks
Rack up your gear in Grundorf Amp Racks. Super solid construction and unmatched Grundorf quality make these rack cases invaluable for any set up. Amp racks are sturdy cases designed to carry and protect your heavy amplifiers. They are rugged, strong, and built to take the rigors of the road!
Grundorf Amp Rack Cases are available in our Carpet, Pro Series, Tour 2™ (1/2" flight case), Tour 4™ (1/4" flight case) and Tour 8™ (3/8" flight case) Series and are available in two depths, 18.25" body depth with 18" rackable depth or a 24" body depth with 23.5" rackable depth. These racks each have two full cap style lids allowing room for amplifier handles in front of the rack rails. Many options are available including rear rack rail, 3" or 4" caster dolly plates and a table option which installs a table leg in the cover to create an instant work station.
NEW ABS SERIES AMP RACK CASES – Grundorf has a new addition to the Amp Rack line-up – the new ABS Series amp rack cases! These are lightweight yet offer outstanding protection for your gear. They are available with a 16.75" rackable depth between the front and rear rack rail, and a total of 19" of rackable depth from the front rails to the inside of the rear cover.
You can buy cheaper, but we're proud to say:
"Nothing Protects Your Equipment Investment
as well as a Grundorf."
Most Grundorf products are made right here in Iowa, USA!
Protect your investment—buy with confidence—buy Grundorf!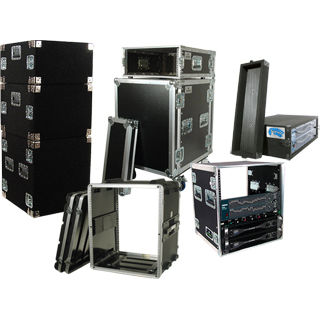 Home |

Literature Request |

Contact Us |

Legal

Grund Audio Design Home Page
Copyright © 1996-2018 Grundorf Corporation. All Rights Reserved