Top-Load Racks - Pro Series
Top-Load racks are just that - a slanted top rack that allows you easy access to the controls on your mixer. The lower portion of the rack case allows racking of even more equipment, such as amplifiers, equalizers, and other processing.
Top-Load rack cases feature three removable covers - top, front and rear, for easy access to all the gear. Cable routing is made easy by an entirely open interior of the case - no fussing over small cable ports. The Grundorf Pro Series Top-Load Racks feature a ratchet system for the top slant rack that fits either 9 or 10 rack spaces of gear. The ratchet system allows the slant to be adjusted to accommodate many different usage requirements.
Each Pro Series Top-Load Rack is constructed with 3/8" vinyl laminated plywood. The edges are finished with double edged aluminum extrusion. The lid-to-body seal is made with an interlocking aluminum tongue and groove valance system to provide a tight seal. Heavy duty recessed handles and padlocking recessed catches add the durability and security required for the road.
The Pro Series Top-Load Rack models 2 - 10 spaces have a 3.5" maximum mixer height and a 17.75" body depth. Models 12 - 20 spaces have a 5.5" maximum mixer height and a 20" body depth. 12 - 20 spaces also have rear rack rails installed with 18.5" between front and rear rails. Large 4" caster plates with two brakes are standard on 12 - 20 space rack cases and available optionally for all other sizes. The finish color is black.
Protect your investment - buy with confidence - buy Grundorf road cases and racks.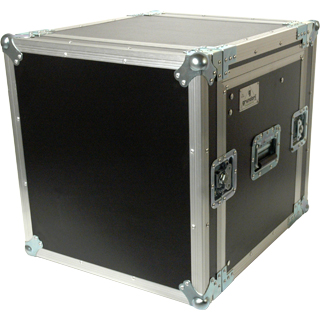 Home |

Literature Request |

Contact Us |

Legal

Grund Audio Design Home Page
Copyright © 1996-2018 Grundorf Corporation. All Rights Reserved